"A convivial society should be designed to allow all its members the most autonomous action by means of tools least controlled by others. People feel joy, as opposed to mere pleasure, to the extent that their activities are creative; while the growth of tools beyond a certain point increases regimentation, dependence, exploitation, and impotence."
— Ivan Illich, Tools for Conviviality (1973)
---
In the last post on the now defunct blog, I proposed nine theses regarding the culture of digital media, an absurd and preposterous gesture and the sort of thing one can more or less get away with in a blog. Of course, like so much else that went on there, I offered them up as provocations to further thought or as theses for disputation. In one of these, I suggested that just as oral culture privileges honor, digital culture privileges shamelessness.
That was a relatively strong claim, and I hesitated before publishing the post, but, ultimately, decided to let it stand. What I had in mind was actually something I went on to feel rather acutely of late. It was, simply put, the feeling that, to thrive or even exist in the culture of digital media, one has to rather unrelentingly offer up more and more of oneself in ways that make one, initially at least, more than a little uneasy.
In part, I'd been feeling this way because, as most of you know, I've been hawking my wares recently. First, a collection of my writing over ten years on the blog (yes, of course, I'm going to share a link again) and then the paid subscription option on this here newsletter. I'm not sure I can convey to you how uneasy I am with all of that, but I convinced myself to do it and to try to do it as graciously as I could manage. To my mind, I succeeded to the degree that I could act shamelessly.
But it's not just a matter of selling goods. I remember the dis-ease with which I composed and then published my first blog post, the trepidation with which I uploaded a picture to Facebook circa 2006, the meticulous care with which I composed my first few tweets. My experience has been one of growing gradually more comfortable with publicizing myself, by which I simply mean making public aspects of myself that I would have ordinarily considered private or of little to no interest to others. Not all of this amounted to overcoming shame, precisely, although, of course, that depends to how exactly we define shame. It is not exactly that I thought I was doing something wrong about which I should feel ashamed, but rather that there was something rather untoward about the whole thing.
(Of course, some of this is a matter of age, too, and personality. Having come of age in an analog culture, my mores and manners were shaped in a time when the divide between public and private was decidedly sharper. Born into the present milieu, one might not experience any of my initial reservations at all.)
Thus, it seemed to me that if we asked what it took to thrive in the current configuration of digital culture, the answer would inevitably involve a measure of shamelessness. And, if that word still seems unnecessarily pejorative, thinking about it in as detached a manner possible, I'd put it this way: we're now accustomed to sharing things/moments/images about ourselves that others used to be ashamed of sharing. So, we've learned to have less shame about such things. One can decide if that's bad or not.
In fact, that is exactly how I put it in a twitter exchange that ensued after I shared a link to recent post by Nicholas Carr that just happened to open with the following claim:
"If Instagram showed us what a world without art looks like, TikTok shows us what a world without shame looks like. The old virtues of restraint — prudence, discretion, tact — are gone. There is only one virtue: to be seen. In TikTok's world, which more and more is our world, shamelessness has lost its negative connotations and become an asset."
"The rise of TikTok heralds something bigger, though," Carr went on to argue, "a reconfiguration of media. As mass media defined the twentieth century, so the twenty-first will be defined by infinite media."
"Infinite media," Carr then observed,
"requires endlessness on two fronts: supply and demand. Shamelessness, in this context, is best understood as a supply-side resource, a means of production. To manufacture the unlimited supply of content that an app like TikTok needs, the total productive capacity of the masses needs to be mobilized. That requires not just the ready availability of media-production tools (the smartphone's camera and microphone and its editing software) and the existence of a universal broadcast network (the internet), but also a culture that encourages and celebrates self-exposure and self-promotion. Vanity must go unchecked by modesty.
Needless, to say, I felt (shamelessly) validated upon reading Carr's post. It seems unquestionably the case that the content machine is like a blob that eats up more and more of reality. As with so much of the culture of digital media, it demands the erasure of certain boundaries and markers. In the culture of digital media, the boundaries between home and work blur so that we might be ever more available as a source of labor. In the culture of digital media, the boundaries between the home and the commercial sphere blur so that we might be ever more available as a source of consumption. In the culture of digital media, the boundaries between public and private blur so that we might be ever more available as a source of data and content.
I would add to Carr's analysis that endlessness requires shamelessness on the demand side of the ledger as well. It's not just that the suppliers of infinite media must be shameless in mining more and more of their experience, offering up more and more of themselves to the content machine. It is also the case that we must be shameless in our consumption as well. We must not turn away; we must be comfortable voyeurs, shameless connoisseurs of the lives of others.
As I explained in my twitter exchange on this subject, what most troubles me is not necessarily the alacrity with which we might erode the public/private distinction for ourselves, it is, rather, the degree to which we are willing to blur that line for others.
Martin Heidegger famously claimed that the manner in which technology discloses the world to us is as standing-reserve, that is as raw materials for our projects of technological mastery. Ordinarily, we tend to think that Heidegger had nature in view. The essence of technology is such that we do not see the forest or the river as it is for-itself, but rather we see each only as potential resources for construction materials or energy production.
Increasingly, it seems to me that we are coming to see not only the natural world but the social world as standing-reserve. We do not, in other words, see other human beings as persons to be respected, even in their folly and frailty, perhaps especially in their folly and frailty. We see them resources for the content mill. I am thinking here, of course, of the countless ways we seem prepared to surreptitiously capture the lives of others and share them for laughs, for likes, for retweets, shares, and reactions. And again, as I see it, it is not just that someone out there is prepared to publish the humiliation of others, it is that too many of us are ready to watch.
Byung-Chul Han opens his book In the Swarm with the following observations: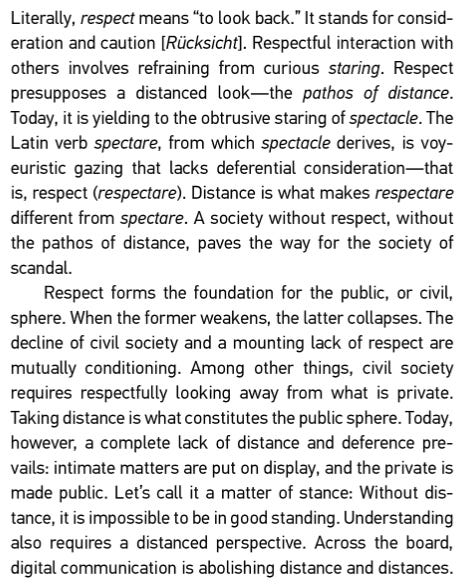 Given the erosion of the distinction between private and public life, neither now retains its integrity and we are in danger of losing the goods and consolations that we might have been available to us in either.
But why bother with a discussion of this sort? Increasingly, it is the kind of the discussion that is bound to strike many as inadequate to our time, unduly concerned as it is with the action of individuals and actions that, frankly, given the scale and scope of our problems, are seemingly trivial. I feel the force of such objections.
At the same time, however, it also seems to me that especially given the scale and scope of our problems, it may be that we need to draw attention again to very basic and fundamental realities. That we must learn again what it means to take responsibility for the good of our neighbor. That we must rediscover our responsibility to tend the social commons that it may be reconstructed in such a way that human beings may flourish in it once again. For as human beings, we depend not only on nature, but on our second nature, the realm of culture; both require our care and our maintenance, both must be cultivated if they are to yield their fruit.
---
News and Resources

​
Re-framings 
— This is the opening page of The Unnamable Present by the Italian publisher and cultural critic Roberto Calasso. I've not gotten very far beyond it at this point, but this has stayed with me.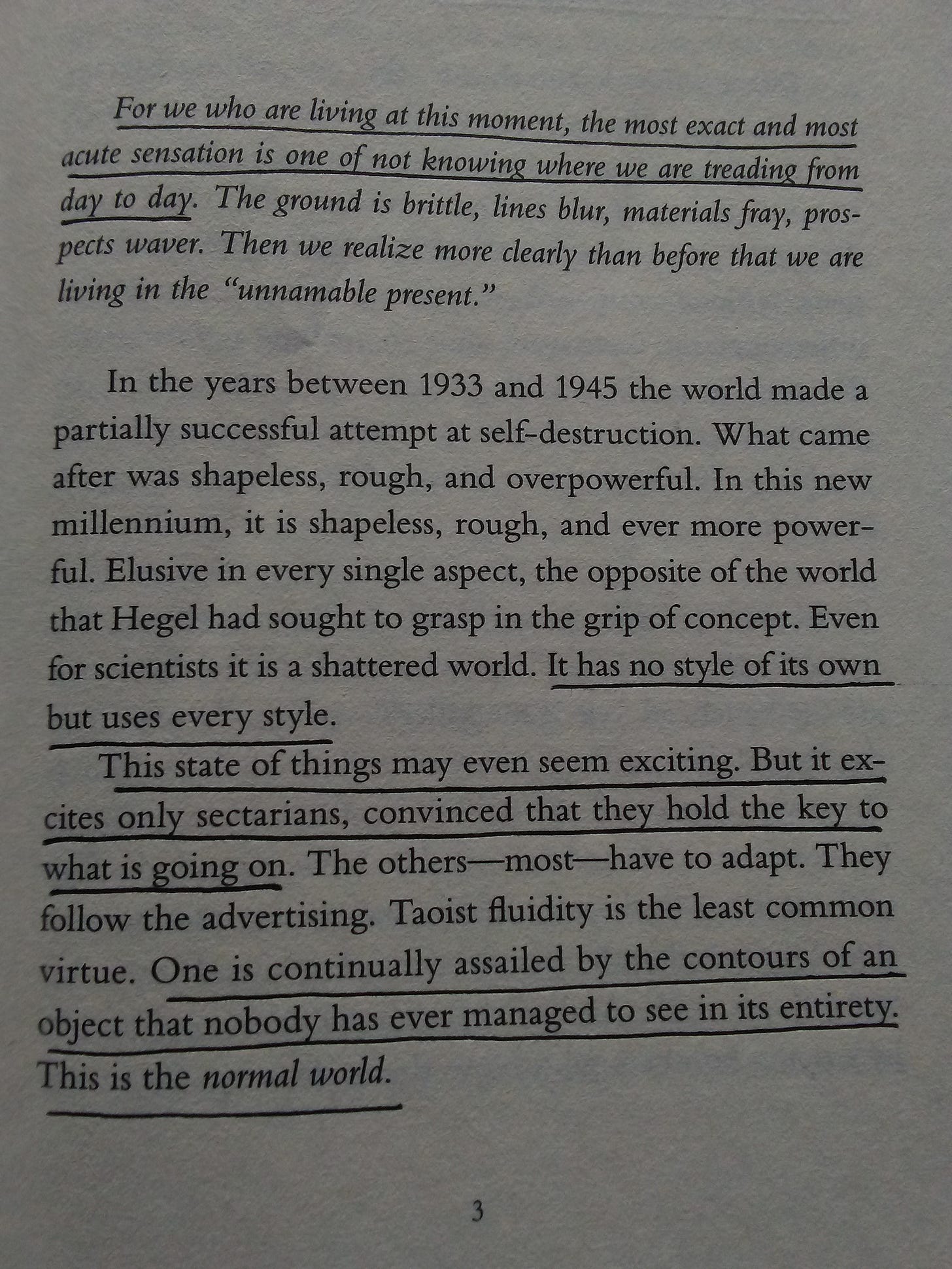 — Jedediah Purdy on becoming a parent in an age of crisis.
"What does it mean to teach a child to live in a time of perennial crisis, always in the shadow of loss? I think about trying to teach him love and wonder first, before he inevitably learns fear. I would like him to be fascinated by a Manhattan red oak, a red-tailed hawk perched in its limbs, or a morel mushroom at its roots, before he thinks, This forest is going to die, with everything in it. When the thought of climate doom arrives, I hope it will arrive in a mind already prepared by curiosity and pleasure to know why this world is worth fighting to preserve."
— Early last year, Jonathan Malesic visited a monastery in the New Mexico desert that in the 1990s operated a web design business. He came to see what he might learn from the monks about how to better order his relationship to work.
"Over several days of working and praying and eating with the monks, I realized that the ceaseless, obsessive American work ethic was one of those demons, certainly the one that haunted me, and most of the people I knew. We are a society almost totally under its power. We assess people's value by their jobs and demean anyone who can't work. We forego vacation time, anxious to prove that we're indispensable. We drive ourselves to burnout. And we do all this even while artificial intelligence promises to take our jobs. The demon is chasing us over a cliff."
---
The Conversation
I've re-thought and re-named the last section of the newsletter. Previously, the newsletter concluded with a section titled "Recently Published," which told a bit about what I was up to on that front, followed by a few more casual comments and a sign off. I'm combining those sections and calling it simply "The Conversation."
This is were I do want to address you all a bit more casually, sometimes telling you what I'm up to as far as writing and speaking. But I also want this last section to be an invitation to enter into or expand some meaningful approximation of a conversation.
You are always free to reach out via email. I've been a bit better of late in getting back to reader emails in a timely fashion, and I intend to continue to do so.
For those of you who are now generous supporters of this newsletter, you will note the ability to comment on this installment. And I do hope you'll avail yourself of that feature. I'd be genuinely interested in your thoughts about any of what I've shared above. Along with me, you'll be addressing a relatively small and thoughtful group. I'm eager to see this become a space for some valuable exchanges about technology, society, and the good life.
If you've not done so already, please know you have a standing invitation to join in.
And please do feel free to let others know about the newsletter as you see fit. No one has to pay a penny to sign up to receive the main offering.
Cheers,
Michael